Berghahn History
February 2017
Reluctant Skeptic
Siegfried Kracauer and the Crises of Weimar Culture
Craver, H. T.
February 2017
Genocide in the Ottoman Empire
Armenians, Assyrians, and Greeks, 1913-1923
Shirinian, G. N. (ed)
February 2017
Metaphors of Spain
Representations of Spanish National Identity in the Twentieth Century
Moreno-Luzón, J. & Núñez Seixas, X. M. (eds)
March 2017
Driving Modernity
Technology, Experts, Politics, and Fascist Motorways, 1922-1943
Moraglio, M.
March 2017
Children in the Holocaust and its Aftermath
Historical and Psychological Studies of the Kestenberg Archive
Kangisser Cohen, S., Fogelman, E., & Ofer, D. (eds)
March 2017
The Greek Exodus from Egypt
Diaspora Politics and Emigration, 1937-1962
Dalachanis, A.
April 2017
Evidence and Meaning
A Theory of Historical Studies
Rüsen, J.
April 2017
Fascism without Borders
Transnational Connections and Cooperation between Movements and Regimes in Europe from 1918 to 1945
Bauerkämper, A. & Rossolińki-Liebe, G. (eds)
April 2017
Let Them Not Return
Sayfo – The Genocide Against the Assyrian, Syriac, and Chaldean Christians in the Ottoman Empire
Gaunt, D., Atto, N., & Barthoma, S. O. (eds)
April 2017
Sisters in Arms
Militant Feminisms in the Federal Republic of Germany since 1968
Karcher, K.
April 2017
Labour, Unions and Politics under the North Star
The Nordic Countries, 1700-2000
Hilson, M., Neunsinger, S., & Vyff, I. (eds)
April 2017
The Absent Jews
Kurt Forstreuter and the Historiography of Medieval Prussia
Hess, C.
April 2017
Hairy Hippies and Bloody Butchers
The Greenpeace Anti-Whaling Campaign in Norway
Riese, J.
April 2017
Conflict, Domination, and Violence
Episodes in Mexican Social History
Illades, C.
May 2017
Between Empire and Continent
British Foreign Policy before the First World War
Rose, A.
May 2017
The Mirror of the Medieval
An Anthropology of the Western Historical Imagination
Fazioli, K. P.
May 2017
Poland Daily
Economy, Work, Consumption and Social Class in Polish Cinema
Mazierska, E.
May 2017
Daily Life in the Abyss
Genocide Diaries, 1915-1918
Tachjian, V.
May 2017
Archeologies of Confession
Writing the German Reformation, 1517-2017
Johnson, C. L., Luebke, D. M., Plummer, M. E. & Spohnholz, J. (eds)
June 2017
Conceptual History in the European Space
Steinmetz, W., Freeden, M., & Fernández-Sebastián, J. (eds)
June 2017
Space and Spatiality in Modern German-Jewish History
Lässig, S. & Rürup, M. (eds)
June 2017
Ruptures in the Everyday
Views of Modern Germany from the Ground
Bergerson, A. S. & Schmieding, L.
July 2017
The Women's Liberation Movement
Impacts and Outcomes
Schulz, K. (ed)
July 2017
Managing Ambiguity
How Clientelism, Citizenship, and Power Shape Personhood in Bosnia and Herzegovina
Brković, Č.
July 2017
European Regions and Boundaries
A Conceptual History
Mishkova, D. & Trencsényi, B. (eds)
July 2017
Cultural Borders of Europe
Narratives, Concepts and Practices in the Present and the Past
Andrén, M., Lindkvist, T., Söhrman, I. & Vajta, K. (eds)
July 2017
Emptiness and Fullness
Ethnographies of Lack and Desire in Contemporary China
Bregnbæk, S. & Bunkenborg, M. (eds)
August 2017
The Nanking Atrocity, 1937-1938
Complicating the Picture
Wakabayashi, B. T. (ed)
August 2017
House of the Waterlily
A Novel of the Ancient Maya World
Carmean, K.
August 2017
Money in the German-speaking Lands
Lindemann, M. & Poley, J. (eds)
August 2017
European Anthropologies
Barrera-González, A., Heintz, M. & Horolets, A. (eds)
August 2017
World War I and the Jews
Conflict and Transformation in Europe, the Middle East, and America
Rozenblit, M. L. and Karp, J. (eds)
August 2017
Contesting Deregulation
Debates, Practices and Developments in the West since the 1970s
Andresen, K. and Müller, S. (eds)
August 2017
Cooperation and Empire
Local Realities of Global Processes
Bührer, T., Eichmann, F., Förster, S. & Stuchtey, B. (eds)
September 2017
The Persistence of Race
Continuity and Change in Germany from the Wilhemine Empire to National Socialism
Day, L. & Haag, O. (eds)
September 2017
From Eastern Bloc to European Union
Comparative Processes of Transformation since 1990
Heydemann, G. & Vodicka, K. (eds)
September 2017
The Participants
The Men of the Wannsee Conference
Jasch, H.-C., & Kreutzmüller, C. (eds)
September 2017
Laborers and Enslaved Workers
Experiences in Common in the Making of Rio de Janeiro's Working Class, 1850-1920
Badaró Mattos, M.
September 2017
Making Nordic Historiography
Connections, Tensions and Methodology, 1850-1970
Haapala, P., Jalava, M., & Larsson, S. (eds)
September 2017
Compensation in Practice
The Foundation 'Remembrance, Responsibility and Future' and the Legacy of Forced Labour during the Third Reich
Goschler, C. (ed)
October 2017
Unearthing the Past to Forge the Future
Colin Mackenzie, the Early Colonial State, and the Comprehensive Survey of India
Wolffhardt, T.
October 2017
Silenced Communities
Legacies of Militarization and Militarism in a Rural Guatemalan Town
Esparza, M.
October 2017
Eastern Europe Unmapped
Beyond Borders and Peripheries
Kacandes, I. & Komska, Y. (eds)
October 2017
Modern Germany in Transatlantic Perspective
Meng, M. & Seipp, A. R. (eds)
October 2017
Global Exchanges
Scholarships and Transnational Circulations in the Modern World
Tournès, L. & Scott-Smith, G. (eds)
November 2017
Subjects, Citizens, and Others
Administering Ethnic Heterogeneity in the British and Habsburg Empires, 1867-1918
Gammerl, B.
November 2017
Cultural Topographies of the New Berlin
Bauer, K. & Hosek, J. (eds)
The United Nations' (UN) World Refugee Day is observed on June 20 each year. This event draws public's attention to the millions of refugees and internally displaced persons worldwide who have been forced to flee their homes due to war, conflict and persecution. For more information please visit www.un.org.   In marking this year's observance, […]
This issue marks the beginning of the fifty-first year of publication of the journal, something to be registered with a degree of pride and not a little wonder. We have been served over this time with a remarkable series of editors, beginning with our founding editor Rabbi Dr Ignaz Maybaum z'l (1897-1976). In those early […]
Boyhood Studies An Interdisciplinary Journal Volume 10, Issue 1 With the theme of "Male Youth Sports: Changing Contexts and Emergent Perspectives," this special issue presents contributions about boys in global sports contexts from fields as diverse as the history of sport, sport sociology, and sport psychology. Democratic Theory An Interdisciplinary Journal Volume 4, Issue 1 […]
We are delighted to inform you that we will be present at The Berkshire Conference of Women Historians at Hofstra University in Hempstead, NY on June 1-4, 2017. Please stop by our table to browse the latest selection of books at discounted prices & pick up some free journal samples.   If you are unable […]
We're delighted to offer a selection of latest releases from our core subjects of Anthropology, Educational Studies, Environmental Studies, Genocide Studies, History and Jewish Studies, along with our New in Paperback titles. Paperback Original REDESCRIBING RELATIONS Strathernian Conversations on Ethnography, Knowledge and Politics Edited by Ashley Lebner Afterword by Marilyn Strathern   Marilyn Strathern is among […]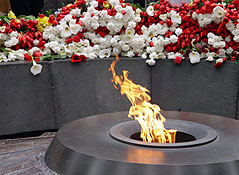 April 24 marks the 102nd anniversary of the Armenian Genocide, and tens of thousands are expected to march to commemorate the event. Armenian Genocide Remembrance Day is held annually to recognize and mourn more than 1.5 million victims of the Armenian Genocide, the most tragic element of Armenian history. For more information on Armenian Genocide please […]
Each year, Earth Day April 22 marks the anniversary of what many consider the birth of the modern environmental movement in 1970. Earth Day 1970 capitalized on the emerging consciousness, channeling the energy of the anti-war protest movement and putting environmental concerns front and center. The very first Earth day celebration brought 20 million Americans […]
  We are pleased to announce that the latest issue of Girlhood Studies has just been published. With this issue, Girlhood Studies begins its tenth year. To celebrate this anniversary, we're offering a 20% discount on all subscriptions to the journal. Below, Editor-in-Chief Claudia Mitchell commemorates a decade of the journal. We would also like to take this […]
We're delighted to offer a selection of latest releases from our core subjects of Anthropology, Applied Anthropology, Cultural Studies, History and Theory & Methodology in Anthropology, along with our New in Paperback titles.   THEORETICAL SCHOLARSHIP AND APPLIED PRACTICE Edited by Sarah Pink, Vaike Fors, and Tom O'Dell Volume 11, Studies in Public and Applied […]
  Milena Jesenská (10 August 1896 – 17 May 1944) was a Czech journalist, writer, editor and translator. She is popularly remembered as one of Franz Kafka's great loves, and Jesenská's translation of The Stoker was the first translation of Kafka's writings into any foreign language. After the occupation of Czechoslovakia by the German army, Jesenská […]
History-Related Journals
Aspasia
The International Yearbook of Central, Eastern, and Southeastern European Women's and Gender History
ISSN Print: 1933-2882
ISSN Online: 1933-2890
Volume 11/2017, 1 issue p.a. (March)
» Latest Issue Online
Contributions to the History of Concepts
Editors: Jani Marjanen, University of Helsinki; Jan Ifversen, University of Aahus; Margrit Pernau, Max Planck Institute for Human Development
ISSN Print: 1807-9326
ISSN Online: 1874-656X
Volume 12/2017, 2 issues p.a. (summer, winter)
» Latest Issue Online
French Politics, Culture & Society
Editor: Herrick Chapman, New York University
ISSN Print: 1537-6370
ISSN Online: 1558-5271
Volume 35/2017, 3 issues p.a. (spring, summer, and winter)
» Latest Issue Online
German Politics and Society
Editor: Jeffrey J. Anderson, Georgetown University
Managing Editor/Book Review Editor: Eric Langenbacher, Georgetown University
ISSN Print: 1045-0300
ISSN Online: 1558-5441
Volume 35/2017, 4 issues p.a. (spring, summer, autumn, winter)
» Latest Issue Online
Historical Reflections/Réflexions Historiques
Senior Editor: Linda E. Mitchell, University of Missouri, Kansas City
Co-editor: W. Brian Newsome, Elizabethtown College
ISSN Print: 0315-7997
ISSN Online: 1939-2419
Volume 43/2017, 3 issues p.a. (spring, summer, winter)
» Latest Issue Online
Journal of Educational Media, Memory, and Society
Editor: Eckhardt Fuchs, Georg Eckert Institute for International Textbook Research
ISSN Print: 2041-6938
ISSN Online: 2041-6946
Volume 9/2017, 2 issues p.a. (spring, autumn)
» Latest Issue Online
Journal of Romance Studies
Interdisciplinary Research in French, Hispanic, Italian and Portuguese Cultures
General Editors: Catherine Davies and Dominic Glynn, Institute of Modern Languages Research
ISSN Print: 1473-3536
ISSN Online: 1752-2331
Volume 17/2017, 3 issues p.a. (spring, summer, winter)
» Latest Issue Online
Sibirica
Interdisciplinary Journal of Siberian Studies
Editor: John P. Ziker, Boise State University
ISSN Print: 1361-7362
ISSN Online: 1476-6787
Volume 16/2017, 3 issues p.a. (spring, summer, winter)
» Latest Issue Online
Transfers
Interdisciplinary Journal of Mobility Studies
Chief Editor: Gijs Mom, Eindhoven University of Technology
ISSN Print: 2045-4813
ISSN Online: 2045-4821
Volume 7/2017, 3 issues p.a. (spring, summer, winter)
» Latest Issue Online
Mobility in History
The Yearbook of the International Association for the History of Transport, Traffic and Mobility
Editors: Kyle Shelton, Rice University
Christiane Katz, Aachen University
Dhan Zunino Singh, University of Quilmes
Kate McDonald, University of California, Santa Barbara
ISSN Print: 2296-0503
ISSN Online: 2050-9197
Volume 8/2017, 1 issue p.a. (Winter)
» Latest Issue Online