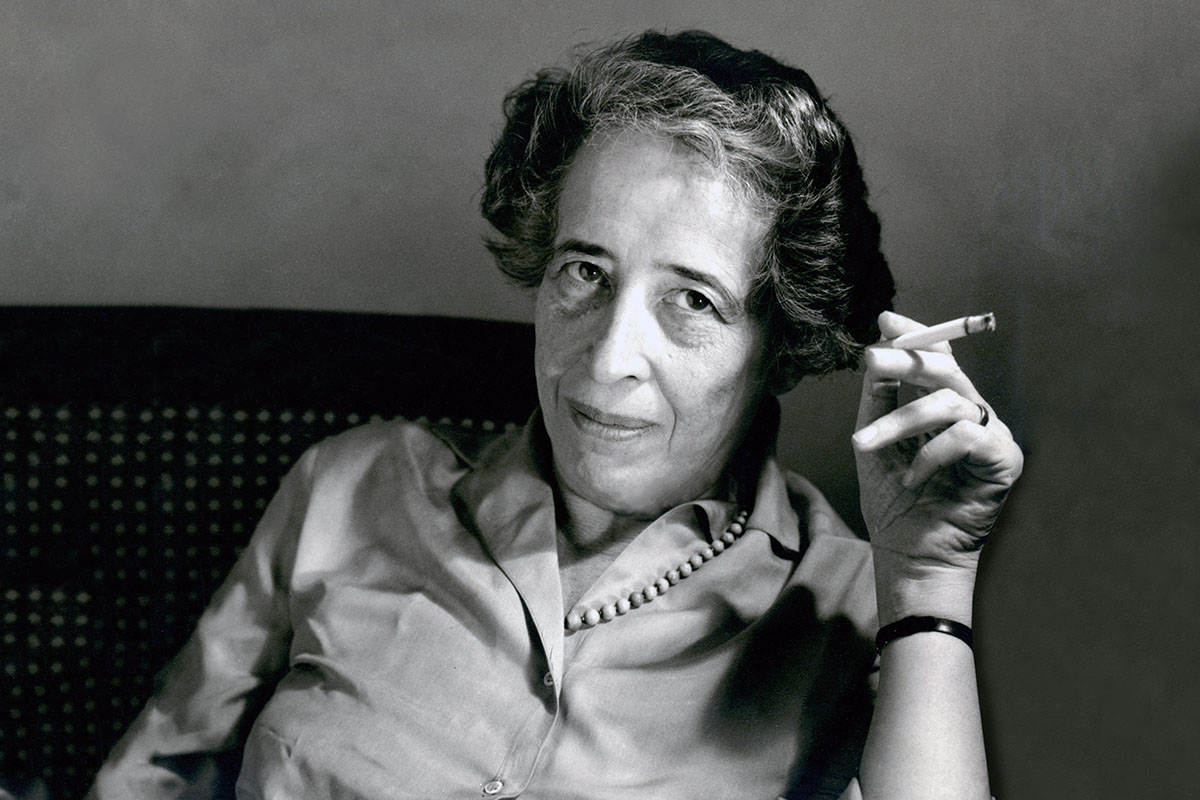 Hannah Arendt (14 October 1906 – 4 December 1975), German-American philosopher and political theorist, was the first to argue that there were continuities between the age of European imperialism and the age of fascism in Europe. In her pivotal work The Origins of Totalitarianism (1951), she established that theories of race, notions of racial and cultural superiority, and the right of 'superior races' to expand territorially were themes that connected the white settler colonies, the other imperial possessions, and the fascist ideologies of post-Great War Europe.
We are proud to offer a selection of texts concerning Arendt's essential contributions to history, philosophy, and political theory.
---
HANNAH ARENDT AND THE USES OF HISTORY
Imperialism, Nation, Race, and Genocide
Edited by Richard H. King and Dan Stone

This collection seeks to use Arendt's insights as the jumping-off point for further investigations–including ones critical of Arendt–into the ways in which race, imperialism, slavery and genocide are linked, and the ways in which these terms have affected the United States, Europe, and the colonised world.
THE LEGACY OF LIBERAL JUDAISM
Ernst Cassirer and Hannah Arendt's Hidden Conversation
Ned Curthoys

Comparing the liberal Jewish ethics of the German-Jewish philosophers Ernst Cassirer and Hannah Arendt, this book argues that both espoused a diasporic, worldly conception of Jewish identity that was anchored in a pluralist and politically engaged interpretation of Jewish history and an abiding interest in the complex lived reality of modern Jews. Arendt's indebtedness to liberal Jewish thinkers such as Moses Mendelssohn, Abraham Geiger, Hermann Cohen, and Ernst Cassirer has been obscured by her modernist posture and caustic critique of the assimilationism of her German-Jewish forebears. By reorienting our conception of Arendt as a profoundly secular thinker anchored in twentieth century political debates, we are led to rethink the philosophical, political, and ethical legacy of liberal Jewish discourse.

Read Introduction
---
Of Related Interest
CONCENTRATIONARY ART
Jean Cayrol, the Lazarean and the Everyday in Post-war Film, Literature, Music and the Visual Arts
Edited by Griselda Pollock and Max Silverman

Largely forgotten over the years, the seminal work of French poet, novelist and camp survivor Jean Cayrol has experienced a revival in the French-speaking world since his death in 2005. His concept of a concentrationary art—the need for an urgent and constant aesthetic resistance to the continuing effects of the concentrationary universe—proved to be a major influence for Hannah Arendt and other writers and theorists across a number of disciplines. Concentrationary Art presents the first translation into English of Jean Cayrol's key essays on the subject, as well as the first book-length study of how we might situate and elaborate his concept of a Lazarean aesthetic in cultural theory, literature, cinema, music and contemporary art.

Read Introduction
CRITIQUE OF IDENTITY THINKING
Michael Jackson

Recent world-wide political developments have persuaded many people that we are again living in what Hannah Arendt called "dark times." Jackson's response to this age of uncertainty is to remind us how much experience falls outside the concepts and categories we habitually deploy in rendering life manageable and intelligible. Drawing on such critical thinkers as Hannah Arendt, Theodor Adorno, Walter Benjamin, and Karl Jaspers, whose work was profoundly influenced by the catastrophes that overwhelmed the world in the middle of the last century, Jackson explores the transformative and redemptive power of marginalized voices in the contemporary conversation of humankind.

Read Introduction
RETHINKING HOLOCAUST JUSTICE
Essays across Disciplines
Edited by Norman J. W. Goda

Since the end of World War II, the ongoing efforts aimed at criminal prosecution, restitution, and other forms of justice in the wake of the Holocaust have constituted one of the most significant episodes in the history of human rights and international law. As such, they have attracted sustained attention from historians and legal scholars. This edited collection substantially enlarges the topical and disciplinary scope of this burgeoning field, exploring such varied subjects as literary analysis of Hannah Arendt's work, the restitution case for Gustav Klimt's Beethoven Frieze, and the ritualistic aspects of criminal trials.

Read Introduction
---
Of Related Interest from Berghahn Journals
Berghahn Journals is offering free access to the following articles* until October 23, 2022.
EUROPEAN JUDAISM: A Journal for the New Europe
Psychoanalysis as Torat Hayim: In Praise of Separation
Agata Bielik-Robson (Vol. 55, Issue 1)
On Vertical Alliances, 'Perfidious Albion' and the Security Paradigm: Reflections on the Balfour Declaration Centennial and the Winding Road to Israeli Independence
Arie M. Dubnov (Vol. 52, Issue 1)
Hannah Arendt: Radical Evil, Radical Hope
Jeffrey Newman (Vol. 47, Issue 1)
THEORIA: A Journal of Social and Political Theory
Deliberative Agonism and Agonistic Deliberation in Hannah Arendt
Giuseppe Ballacci (Vol. 66, Issue 161)
Returning to the Source: Revisiting Arendtian Forgiveness in the Politics of Reconciliation
Sam Grey (Vol. 66, Issue 161)
Amor Bellitās: Arendt on Kant and Aesthetic Judgment in Politics
Alex Donovan Cole (Vol. 65, Issue 156)
*Content is exclusively for the user's individual, personal, non-commercial use.
View full terms and conditions.
Interested in learning more? Sign up for our email newsletters to get customized updates on new Berghahn publications. Set your preferences here.